Staying in your own home well into their retirement is a top priority for many senior citizens in Carroll County. Aging-in-place is a term used when senior citizens wish to remain in their own home safely and independently, regardless of age or ability level. This allows seniors to stay in a familiar environment and enjoy the community, routines, and people they have spent a lifetime with.
Living comfortably and independently often requires that changes be made to your home. Whether this includes changes to a home to make it more accessible or the addition of a completely new in-law suite, Robin Ford Building and Remodeling, Inc., is committed to helping Carroll County seniors stay in their homes.
Certified Aging-In-Place Specialist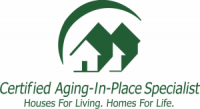 Robin Ford Building and Remodeling, Inc. has earned the designation as a Certified Aging-in-Place Specialist from the National Association of Home Builders. This program provides comprehensive, practical, market-specific information about working with older and maturing adults to remodel their homes for aging-in-place. A Certified Aging-in-Place Specialist is recognized for the technical knowledge to solve the remodeling needs of the aging-in-place population and a greater understanding of the aging-in-place population.
In-Law Suites
More and more Americans are choosing to move in with their adult children. An in-law suite can provide privacy and independents for everyone involved. Whether adding an entirely new addition that matches the exterior (link to Exterior Remodeling, or remodeling interior space to accommodate a new suite (link to Interior Remodeling), Robin Ford Building and Remodeling, Inc., can design and build an in-law suite that will blend in seamlessly with the existing home, and provide all the necessary amenities.
Aging-In-Place – One Client's Story
Over twenty years ago, Robin and his team built a beautiful custom home for Diana and her husband. As the years went by, the children moved out and had families of their own. When their daughter, son-in-law and two small grandchildren came to live with them, it wasn't long before Diana had the idea to design an in-law suite. This would allow everyone in the household privacy and independence, allowing her daughter, son-in-law and their children the main section of the house. Robin worked with Diana to help her create a beautiful and functional new space for the next phase of their lives. See full gallery here.