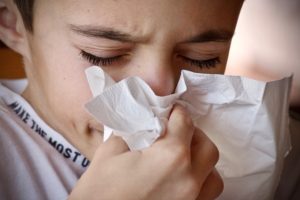 As many of us are unfortunately familiar with, seasonal allergies are a common ailment. During the spring or even these summer months, our eyes begin to water, our noses begin to sneeze, and if it gets bad enough, asthma can even be triggered by all the pollen in the air. Pollen is relentless and will find a way inside your home, causing you to have allergy attacks in the one place you should be able to get away to. If you're building a custom home, there is some relief: with these few design choices, you'll be able to create a custom home that helps alleviate your symptoms. 
The Right flooring
Choosing the proper flooring in your custom home sets the tone for what the rest of your decor will look like. Flooring is also difficult and costly to replace, so it's important that you choose the right flooring from the get go. For those of us with seasonal allergies, hard surface flooring like hardwood, ceramic tile, or vinyl products have been shown to be the best choice in reducing the spread of pollen and other allergens in your home. These surfaces are easier to clean and don't let allergens build up overtime, unlike carpeting does. It's important to not just choose the right flooring in terms of aesthetics, but to find the flooring that will help improve your quality of life!
HVAC Systems
Pollen is an airborne substance that can make its way through your home relatively easily. Your ventilation system can help in the battle against pollen and other allergens though. Be sure to change the filters in your heating and air conditioning units as well, as letting allergens build up will definitely cause you to have allergy attacks often. Try to keep a schedule of when you should swap filters out, but if you notice your allergies starting to act up, this may be the first culprit. 
Robin Ford can help you to build the custom home of your dreams!
With over 30 years of award-winning custom home building experience, Robin Ford and his team of expert craftsmen have earned a stellar reputation for their commitment to quality. Click here to learn more about our financing options and how we can help you find a home within your budget.
As an Indoor airPLUS Partner, ENERGY STAR® Partner, Certified Green Professional, and Maryland's only proud member of the exclusive Southern Living Custom Builder Program –Robin Ford Building and Remodeling, Inc. is equipped to build you a home that your children's children will want to own.
Call 410-239-8850 or contact us here to start experiencing The Robin Ford Difference today. You can also connect with us on Twitter, Pinterest, and LinkedIn.